31 July 2018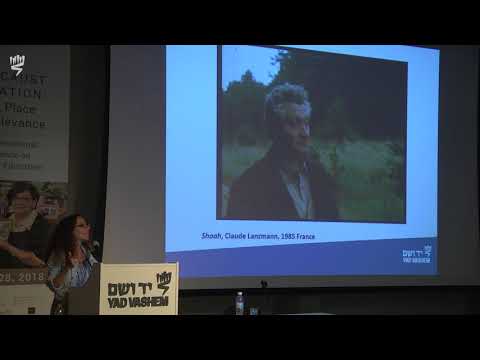 Renowned French filmmaker Claude Lanzmann dramatically changed the way in which people commemorated and remembered the Holocaust.
Born in Paris in 1925 to Jewish immigrant parents from Eastern Europe, Lanzmann lived in hiding with his family during World War II, before joining the French resistance at the young age of 17. After reading Jean Paul Sartre's Anti-Semite and Jew (On the Jewish Question), Lanzmann began to explore his Jewish identity. On the release of his first film Pourquoi Israël (Israel, Why), which documents the first twenty-five years of the State of Israel, Israel's Ministry of Foreign Affairs approached Lanzmann, encouraging him to create a film about the Holocaust from the Jewish point of view. The result was the iconic Shoah.
Following Lanzmann's death in July 2018 at the age of 92, Liat Benhabib, Director of Yad Vashem's Visual Center, reflected upon his monumental achievements in the field of Holocaust cinema:
Claude Lanzmann is best known for his non-fiction work Shoah. What can you tell us about Shoah and the way it changed Holocaust remembrance?
Shoah marks a tectonic shift in Holocaust cinema, and has become one of the foremost Holocaust-related films since its release in 1985. Rejecting archival footage, docu-drama, and all other genres, Lanzmann insisted on focusing on testimonies of Holocaust survivors who had been closest to the mass murder of their people. It is a work about the present, representing the way those who were there live with trauma and the memory of it. Holocaust films of all genres changed after Shoah, which also served to shine a spotlight on survivor testimony in an unprecedented scope and manner.
Before Lanzmann, how was the Holocaust treated in cinema?
The first documentary film on the subject made after the war was Alain Resnais' Night and Fog (1955). Strictly speaking, Night and Fog is not a film about the Holocaust, but about the crimes of the Nazis. It touches upon the way the Nazis dehumanized Jews as part of this process. While it is a classic documentary for the time period, with archival images accompanied by voiceover, there are no interviews with survivors of the Holocaust.
Did Lanzmann's views differ from Resnais?
Yes, and that's why Shoah was so revolutionary. He began his work on the film in 1975 and took a very important artistic and moral decision. Not only does the film tackle the Holocaust, the "Final Solution" and Nazi extermination, but it does it in a very different way. The film is based entirely on the testimony of survivors: It does not contain a single archival image.
Why did Lanzmann prefer not to use archival footage?
Most archival images from the Holocaust period were produced by the Nazis for propaganda purposes, which Lanzmann refused to use. Other images were taken by the Allied forces – the Russians, the British, the Americans – at the liberation of the camps, which constitute post-Shoah documentation. Even if these images were a close representation of what had happened in the camps, they were taken after the event, similar to a re-enactment of a crime scene. This, too, was unacceptable to Lanzmann. In addition, they are very difficult images to look at, and Lanzmann did not want to allow the viewer to look away, even for a second, from the screen.
What problems did Lanzmann encounter while relying on testimonies to tell the story of the Holocaust?
Lanzmann recorded more than 200 interviews over a time span of 10 years – Jewish survivors, but also Righteous Among the Nations as well as Nazis. Lanzmann opened his film with the testimony of Simon Srebnik, a 13-year-old Jewish boy, who was in the Sonderkommando [slave laborers who worked at the crematoria] in Chelmo. During several minutes we accompany Srebnik in a painful testimony, and then he explains that it is impossible to understand what happened: "No one can comprehend it, even I who was there, I cannot comprehend what really happened." Lanzmann then seemingly makes a deal with the viewers. "You will not understand," he is trying to tell us, "but we will tell you this story again and again, in depth, over nine hours, starting from several points of view, from several interlocutors, from several places, in order to even try to grasp some comprehension of how this was possible." This was an extraordinarily courageous cinematographic decision. 
Is it even possible to build a reliable documentary film solely on testimonials?
The value of the testimony raises historical as well as psychological questions. How does memory work? What do we remember? Are memories objective? How can one reconstruct a story from personal experiences? How do you bring an individual to recount memories that are decades old without reviving a trauma? All these questions are reflected in Shoah. For example, in a scene with Abraham Bomba, the hairdresser from Holon, who had to shave women on their arrival at Auschwitz, Bomba struggles to testify, and begs Lanzmann to leave him in peace. The viewer sees his suffering: Lanzmann films all their exchanges. He reassures Bomba, and convinces him to speak. The viewer witnesses the entire psychological process the witness endures. These are very important data for the duty of memory.
Who should see Shoah?
Everyone, everywhere on the planet. It has been released around the world and translated into more than 20 languages. In Israel, screenings are organized in high schools, in three parts of three hours each. It is one of the iconic reference films on the Holocaust. When we opened the Visual Center in November 2005, it was one of the first films we offered to the public.
How did Lanzmann himself describe the film?
When we contacted him to ask for his agreement to list Shoah in our film catalog, he asked to see the catalog itself. When we spoke on the phone two days later, he was initially opposed to his film being called a documentary. I asked him then under which category would he like to categorize the film? He replied: "A unique film, one of its kind." He was right. Nevertheless, he finally conceded to cataloging it as a documentary film.
How is the film unique?
Shoah is more than a documentary. It is a cinematic lexicon of testimonies on the Shoah. It's not just a film about the Holocaust, but almost an anthology, an encyclopedia, which reports stories about the Shoah from so many different perspectives, and encompasses an impressive number of Holocaust-related topics.
Thirty years after its release, how does Shoah continue to influence Holocaust-related film?
Before Lanzmann, there were the archival films. With Lanzmann, there were the testimonial films. Today, we combine both. Young filmmakers are returning to archival footage that, thanks to the digital age, is increasingly available, but they also continue to use or refer to Lanzmann's Shoah, which remains a prime example in Holocaust testimonial documentation.
During September 2018, the Yad Vashem Visual Center together with the Jerusalem, Tel Aviv and Herzliya Cinematheques are preparing a program of public screenings of Shoah in full length.  
Yad Vashem's Visual Center is open from 9am to 5pm from Sunday to Thursday. It contains more than 11,000 films, available for free consultation on site, referenced in the online catalog (in English) .
This blog was written with the assistance of Mimi Ash, Film Research and Acquisitions Coordinator in the Visual Center at Yad Vashem.
---