20 August 2020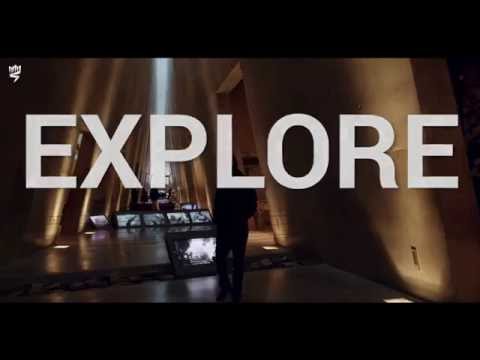 After five months of closure due to the COVID-19 pandemic, Yad Vashem reopened this week to the Israeli public. Visitors can once again tour through the Holocaust History Museum, free of charge, after making a reservation in advance. They can also access the many famous and more intimate monuments and memorials located across the Mount of Remembrance. Unfortunately, Yad Vashem remains inaccessible to numerous international tourists who, for the past six months, have been prevented from traveling to Israel. Nevertheless, access to relevant and timely content related to the Holocaust was never curtailed by COVID-19. Quite the opposite: Dedicated staff have innovatively stepped-up their online reach to meet the needs and interests of its ever-growing international audience.
If visitors can't come to Yad Vashem… bring Yad Vashem to the visitors
For many years, Yad Vashem has been developing and disseminating Holocaust-related information via its dynamic multi-language websites. So when the Mount of Remembrance closed to visitors just a few weeks before Holocaust Martyrs' and Heroes' Remembrance Day 2020, its activity was undeterred. Although it took place with no audience participation, the official opening ceremony for Holocaust Remembrance Day was broadcast complete with simultaneous translation into five languages on its website and Facebook page. Also, as in previous years a special mini-site was uploaded featuring a description of the central theme for Holocaust Remembrance Day 2020 – Rescue by Jews during the Holocaust: Solidarity in a Disintegrating World; personal stories and videos of the six Holocaust survivors chosen as Torchlighters for the opening ceremony; and a moving online exhibition on the central theme, entitled Rescue by Jews: "One for All."
In addition, Yad Vashem premiered a unique international virtual names-reading campaign, providing the public with a meaningful interactive commemorative activity and connecting them to the memory of the six million victims of the Holocaust. Hundreds of people from all over the world submitted videos reciting names of Holocaust victims and uploaded them to social media with the hashtags #RememberingFromHome #ShoahNames. 
Dana Porath, Director of Yad Vashem's Digital Department says,
"Holocaust Martyrs' and Heroes' Remembrance Day is just one day of the year, but it's not the only day the public has to access to information about the Holocaust. Throughout the whole year, and especially when the Holocaust History Museum was closed to visitors, Yad Vashem's website and social media platforms offered online exhibitions, lectures, information and calendar-relevant content presented in a user-friendly and easily accessible manner. We were already very present in the digital world, but we made sure to intensify our activities in order to bring timely content to users all around the globe."
For example, this past January, as the world prepared to mark the 75 years since the liberation of the notorious concentration and extermination camp Auschwitz-Birkenau, Yad Vashem teamed up with internationally renowned portrait photographer Martin Schoeller to create a unique exhibition entitled "Survivors – Faces of Life After the Holocaust." The exhibition, which opened in the Ruhr Museum in Essen, Germany in the presence of Chancellor Angela Merkel, displays close-up portraits of 75 Holocaust survivors photographed by Schoeller. In time for Israel's Holocaust Remembrance Day, observed this year on 20-21 April, Yad Vashem decided to feature all 75 of the portraits, one per day, together with a brief description of their personal stories in a special Twitter campaign, #75Survivors Faces of Life After the Holocaust.
Lectures and articles on some of the central missions of Yad Vashem have given online viewers a glimpse behind-the-scenes, including a blog about the Names Recovery Project and the Central Database for Shoah Victims' Names; an interview with the Director of the Deportations of Jews Project; and a three-part series about unknown heroes from the Holocaust.
The World of Online Learning: Digital Remembrance
Yad Vashem has taken full advantage of its online platforms to continue educating the world about the Holocaust and issues relating to antisemitism. To this end, it has been promoting Zoom-style lectures on a vast range of topics. Medical Ethics and the Holocaust, Theological Responses to the Holocaust, Reflections of a Kindertransport Survivor, Rare Documents from the Yad Vashem Archives and Women in the Camps are just a few topics that have covered during the Coronavirus period.
Yad Vashem has also increased its outreach to its loyal followers, and now sends weekly newsletters to tens of thousands of people around the world. In addition, the Yad Vashem Jerusalem magazine has been published in a new dynamic web-based format for easier access and accessibility. This format allows for the inclusion of multimedia components such as video clips and links to various sections of Yad Vashem's comprehensive website.
Two of Yad Vashem flagship divisions, the International School for Holocaust Studies and the International Institute for Holocaust Research have also been promoting content to the public. Two series of podcasts and videos provided educators with new materials and tools to engage students in Holocaust education. In addition, hundreds of educators and researchers have participated in tailor-made online lectures and virtual tours of the Holocaust History Museum. Richelle Budd Caplan, Director of International Relations and Projects in the International School for Holocaust Studies states:
"With the arrival of the Coronavirus, we have sadly seen an increase in the spread of conspiracy theories and age-old antisemitic messages. Our activities have been geared towards strengthening our connection with our graduates and partners, and providing them with innovative ways to address this alarming trend."
Whether via virtual meetings, online exhibitions or social media posts, Yad Vashem remains dedicated to its mission to provide historically accurate content in order to further educate the public about the Holocaust and its meanings to today's society. The goals of Yad Vashem have and continue to be, as Yad Vashem Chairman Avner Shalev remarks,
"a deep commitment to ensuring that the Holocaust and the memory of the six million Jewish men, women and children murdered during this darkest chapter of our shared history remain relevant for generations to come. While circumstances this year are unique, the message is still the same."
---