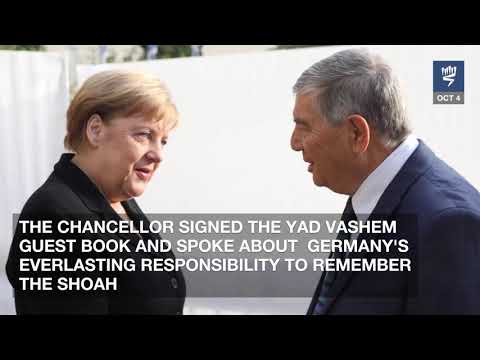 German Chancellor Angela Merkel Visits Yad Vashem
For more pictures click here
04 October 2018
The Chancellor of the Federal Republic of Germany H.E. Dr. Angela Merkel toured Yad Vashem, the World Holocaust Remembrance Center, today, during a trip to Israel for a government-to-government summit. The Chancellor was accompanied by Yad Vashem Chairman Avner Shalev through the Holocaust History Museum and the Hall of Names, as well as Vice Chancellor Olaf Scholz and a dozen other high-level federal ministers from Germany. As part of the tour, Merkel was shown the evolution of the decision making process in the Third Reich that began with economic and social restrictions against the Jews of Europe and ended with their extermination.
The Chancellor and her delegation also participated in a memorial ceremony in the Hall of Remembrance and visited the Children's Memorial. Before departing, the Chancellor received the album of the recently opened exhibition "Flashes of Memory: Photography during the Holocaust" as a token of remembrance from Avner Shalev.
Chancellor Merkel wrote the following statement in the Yad Vashem Guestbook:
"Nearly eighty years ago, during the Kristallnacht pogroms on the 9th of November, the Jewish people of Germany were confronted with hate and violence in an unprecedented manner. What followed was the unparalleled crime that ruptured civilization, the Shoah. It is from this point that Germany's everlasting responsibility to remember this crime and oppose antisemitism, xenophobia, hate and violence arises."