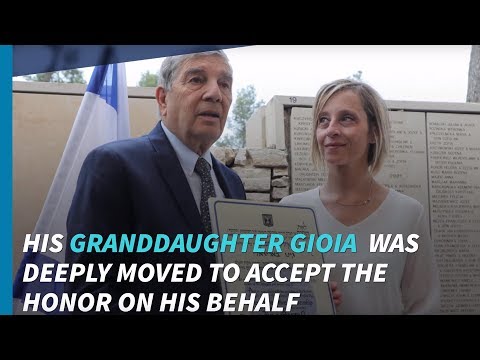 Giro d'Italia Cyclists Ride through Yad Vashem
For more pictures click here
02 May 2018
On 2 May 2018, as part of the events leading up to the Giro d'Italia Big Start, Yad Vashem, the World Holocaust Remembrance Center, hosted participants of the Israel Cycling Academy and leadership of the Giro d' Italia at an event posthumously bestowing Commemorative Citizenship of the State of Israel on Righteous Among the Nations Gino Bartali.
Cyclists from the Giro d'Italia participated in a Memorial Ride through Yad Vashem's campus, concluding in the Garden of the Righteous Among the Nations. Following the ride, a short ceremony was held conferring Commemorative Israeli Citizenship on the late Gino Bartali.
Yad Vashem Chairman Avner Shalev presented the certificate of Commemorative Citizenship to Gioia Bartali, granddaughter of Gino Bartali, in the presence of Italian Ambassador to Israel H.E. Mr. Gianluigi Benedetti and Honorary President of Giro d'Italia Big Start Sylvan Adams. Director of the Righteous Among the Nations Department Irena Steinfeldt compered the event.
Born in Florence in 1914, Gino Bartali was a champion road cyclist who won the Italian Giro d'Italia multistage race three times (in 1936, 1937 and 1946) and the Tour de France twice (in 1938 and 1948). Owing to his remarkable accomplishments in sports, he became a popular and widely admired national hero.
Bartali was a devout Catholic. According to his son, Andrea Bartali, Archbishop Elia Angelo Dalla Costa (recognized as Righteous Among the Nations in 2012) had performed the marriage ceremony of his parents and maintained a close relationship with his father. Following the German occupation of Italy in September 1943, Bartali, who was a courier for the resistance, came to play a role in the rescue of Jews within the framework of the network initiated by Rabbi Nathan Cassuto who was later joined by Dalla Costa.
Bartali was known to cover large distances with his bicycle for training purposes, and transferred forged documents from one place to another. His activity spanned a wide area. He also distributed forged documents produced by the Assisi network, another rescue operation initiated by clergy in that town.
A number of Holocaust survivors, including Giulia Baquis, Shlomo Goldenberg-Paz, and Goldenberg-Paz's cousin Auerlio Klein, gave testimony to Yad Vashem regarding Barali's wartime rescue efforts. After the war, however, Bartali refused to speak of his underground work during the German occupation. Hence, many of his courageous endeavors remain unknown. Nevertheless, Sara Corcos, who worked for the CDEC (Centro di Documentazione Ebraica Contemporanea, Jewish Contemporary Documentation Center) in Milan, told her niece, Shoshana Evron, daughter of Rabbi Nathan Cassuto, that she had met Gino Bartali after the war. He emphatically refused to be interviewed, saying that he had been motivated by his conscience and therefore did not want to have his activity documented. Only when Corcos told him that she was related to the family of Rabbi Cassuto did a deeply moved Bartali agree to speak, on condition that she would not record him. In the conversation that followed, Bartali told Corcos about the forged documents and about his role in distributing them.
Yad Vashem posthumously recognized the former Giro d'Italia cyclist Gino Bartali as Righteous Among the Nations in 2013 for his courageous actions in rescuing Jews during the Holocaust. His name is engraved on the Wall of Honor in the Garden of the Righteous Among the Nations on the Mount of Remembrance.
At the ceremony, Avner Shalev recalled Gino Bartali's motivation to "do the right thing even against the majority," making the story "so relevant to us today. We will continue to be inspired by his story and remember it for generations to come."
Sylvan Adams called Bartali "the greatest cyclist of his era, but he was an even greater human being. The entire Giro this year is dedicated to the memory of Gino Bartali – an Italian hero, a hero of the Jewish people, and a hero of mankind."
Gioia Bartali, who had lost her father earlier this year, said she was standing in Yad Vashem today "as Gino's granddaughter, bringing testimony of his heroic actions… My grandfather was a great champion of sport," she said, "but today he will be remembered as a champion of life."