31 January 2018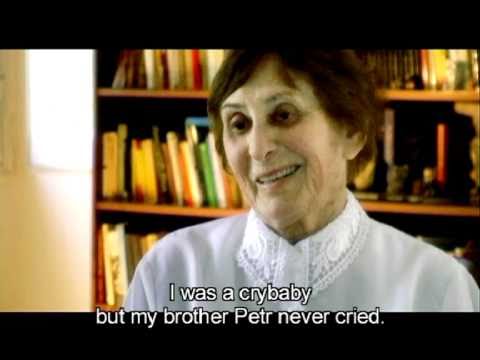 The emotions and excitement at Israel Space Week yesterday were palpable. Meeting with Rona Ramon, widow of Israeli Astronaut Ilan Ramon z"l, Yad Vashem Chairman Avner Shalev remarked: "Today we come full circle."
Shalev had just presented Rona with a copy of "Moon Landscape," the now famous drawing of 14-year-old Holocaust victim Petr Ginz, which Ilan brought to public awareness when he took a copy with him on his doomed space flight in 2003. As the son and grandson of Auschwitz survivors, Ilan had asked Yad Vashem to provide him with a relic from the Holocaust with him on his mission to space. Ilan immediately connected to "Moon Landscape," which Petr Ginz, an exceptionally bright and talented Jewish boy, had painted from his imagination while incarcerated in the Theresienstadt ghetto. Yad Vashem produced a facsimile copy of the drawing for Ilan to take to space.  
Sadly, the Columbia space shuttle that took Ramon and six others into space malfunctioned on reentry into the earth's atmosphere and the entire crew lost their lives.
Yesterday, Rona Ramon promised to perpetuate both Ilan and Petr's memory by passing on another copy of the drawing to Drew Feustel, a NASA astronaut due to fly out to the International Space Station later this month. Feustel is a former colleague of Ramon, and they had many close friends in common. "Ilan and I worked together for a short period of time prior to 2003," Feustel recalled. "Back then, I was touched when I discovered that he planned to take Petr Ginz's drawing to space, as we have close family and friends in the Czech Republic. I feel honored to continue commemorating Petr and all the victims of the Holocaust in this way."
Petr Ginz was a talented boy with a vivid imagination, who began writing stories, poems and articles at a young age. During his incarceration, he "traveled" to places near and far – including outer space – inspired by one of his favorite authors Jules Vern. With great longing, he also "visited" Prague, the city of his birth, in a poem written from behind the ghetto walls. In 1944, Petr was murdered in Auschwitz.
"'Moon Landscape' reflects, with remarkable accuracy, how Petr believed the earth would look from the moon," said Avner Shalev. "Moreover, it illustrated his desire to reach a place from where the earth, which threatened his life, could be seen from a secure range. But most of all, the drawing reveals a young man who, in addition to his other talents, was both a researcher and a scientist full of the optimism that science precedes all – and would ultimately bring a remedy for the malaise of humanity."
"When Drew told me that he wanted to take a copy of "Moon Landscape," the same drawing Ilan took with him into space, I could not help but think of Ilan's connection as the son of a Holocaust survivor to that child from the Terezin ghetto," said Rona Ramon. "Petr's story touched Ilan's heart. Petr was a child who loved science fiction and dreamed of traveling to space even while imprisoned in the ghetto. Ilan said that he felt that his journey was fulfilling Petr's dream from so many years ago, and even though Petr was murdered in the furnaces of Auschwitz, the mere fact that his drawing made it to space is testimony to the triumph of his spirit. I cannot thank Drew enough for this tremendous gesture – both for the memory of the Holocaust and for the way in which Ilan sought to perpetuate it."
---