01 January 2014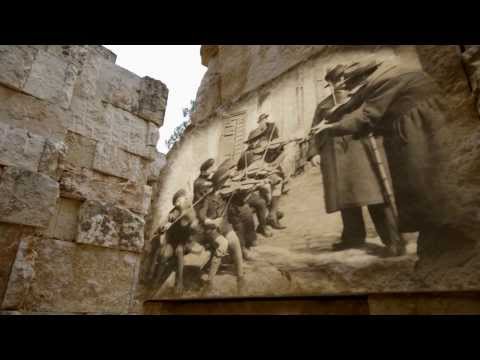 The Yad Vashem website has recently added an online presentation of the Valley of the Communities,filled with information, pictures and a video tour, describing the massive 2.5 acre monument literally dug out of natural bedrock and designed by architects Dan Zur and Lipa Yahalom. Information about 6 of the more than 5000 Jewish communities that were decimated, and whose names are engraved on the stone walls in the Valley, has been brought together in this online exhibition to give us a glimpse of the rich cultural and Jewish world that was part of those communities - and was destroyed. The exhibition highlights the Jewish life that flourished in Chelm, Ioannina, Piotrkow Trybunalski, Siauliai, Szydlowiec and Wiesbaden before the war and the devastation that befell these communities during the wartime period.
The historical accounts of life in the communities featured in "Here Their Stories Will Be Told…" are conveyed within the visual context of the Valley of the Communities. A very special and significant component of this project is an experiential "virtual tour" of the Valley which serves as the landing page of the exhibition (if on a desktop) or can be accessed from within the exhibition by clicking here.
Each name in the Valley recalls a Jewish community which existed for hundreds of years; for the inhabitants, each community constituted an entire world. Today, in many cases, nothing remains but the name. The Valley was excavated out of the earth - nothing was built above ground. It is as if what had been built up on the surface of the earth over the course of a millennium - a thousand years of Jewish communal life - was suddenly swallowed up. The names of the communities are engraved on the 107 walls which roughly corresponds to the geographic arrangement of the map of Europe and North Africa.
The exhibition also includes personal accounts describing the loss of an entire community such as the writings of Motel Eisenberg, a Jewish man hiding in Szydlowiec during the Soviet capture of the town from the Nazis:
"We crawl forth from our grave, downtrodden but happy to have survived. […] Before day break, in the dark, we walk down a side road which leads to Szydłowiec. I drag my feet with difficulty, because after many long months I have grown unaccustomed to moving them. We enter the town. It is hard to believe that until not very long ago thousands of Jews used to live here."
---