16 June 2020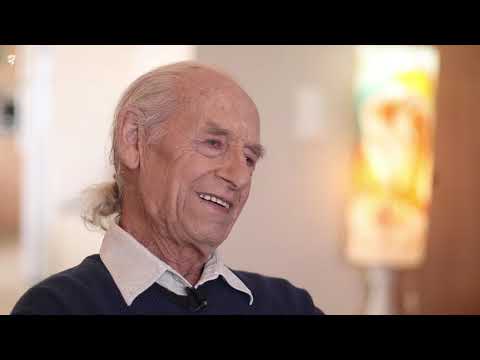 To mark the occasion of Anne Frank Day 2020, observed on what would have been her 91st birthday, the Anne Frank Zentrum and the Society of Friends of Yad Vashem in Germany co-sponsored a video interview with Jewish resistance fighter and Holocaust survivor Zvi Aviram. For years, Aviram has been traveling around the world talking to audiences about his story of survival during WWII. However, due to the Coronavirus pandemic, he was unable to attend physically and the interview was pre-recorded.
My Rebellion: The Story of Zvi Aviram is part of a unique testimony film series, created by Yad Vashem's International School for Holocaust Studies, which features Holocaust survivors who journey back to the place where they lived through the Shoah. The series has recently uploaded to Yad Vashem's website, and staff recently met with Zvi in his apartment in the center of Israel and asked him more about growing up, as Anne Frank did, during the Holocaust.
When were you born, and what was your family like?
I was born as Heinz Abrahamson in 1927, to my parents Arthur and Margarete (née Jacobson). Together with my younger sister Betty, we lived a comfortable life in the heart of Berlin. While our family was not religiously observant, we marked traditional Jewish holidays.
What was your life like when the Nazis came to power in Berlin?
The Nazis came to power around the same time I started attending public school, and everything immediately began to change. At the very beginning, it was somehow still bearable at school; we suffered mainly from being harassed by the teachers, who suddenly wished to show their aspirations towards the Nazi party and ideology.
However, my family did begin almost immediately to suffer from anti-Jewish persecution and legislation. My father in particular was severely affected when these new laws forced him to lose his livelihood. He saw his world suddenly turned upside down. He was a proud Jew, but once he was forced to close his shop he just collapsed, and from that day forward he wasn't able to work anymore.
What was the turning point in the treatment of Jewish youth?
In 1938, I was expelled from public school and sent to the Jüdische Schule at Riekestraße, a small Jewish school where we continued to study as best we could. On the way to and from school we were constantly attacked by young thugs and bullies, members of the 'Hitler Youth.' While we were usually unharmed physically, we knew we couldn't expect anyone to come and help us. The passersby saw nothing, knew nothing, and didn't want to do anything at all.
In 1938, the November Pogrom, commonly known as Kristallnacht, marked a realization amongst most of German Jews that their future in Germany was rapidly coming to an end. What do you recall from that time?
On that day [8th] in November, I approached the shopping area and suddenly smelled smoke. It was very odd to me. I did not know where it was coming from. I sensed chaos and tension all around me. I burst into tears and ran home to my mother and cried, Mother, Mother, they're destroying everything and burning everything down! It was just horrible.
Did you understand what was happening?
All I knew was that they decreed everything just to make us Jews suffer. We were persecuted everywhere, and we knew that we weren't wanted anymore either in our hometown, or even in greater society; we no longer belonged to the German people. What I perceived at the time was the sense of helplessness of my parents and the whole Jewish community of Berlin.
In 1938, my little sister Betty was given the opportunity to escape Germany and go to England as part of the Kindertransport rescue campaign.
What changed in you following your sister's flight from Germany to safety in the UK?
I became a lone wolf, I did things on my own – this was my form of rebellion. I started to break the laws and do things that were forbidden to Jews. For example, I would ride all over the city on my bicycle.
With the onset of war, the situation for the Jews of Germany became worse. From March 1941, Berlin Jews were conscripted to forced labor, and I was forced to work at a munitions factory. In February 1943, my parents were arrested and sent to Auschwitz, where they were murdered. I remained alone in Berlin, living in hiding. I joined the "Pioneer Circle" and the Communist underground movements, for whom I spread anti-regime propaganda leaflets on the streets of Berlin. I was arrested twice and tortured by the Gestapo. Finally, on 9 May 1945, I was liberated by the Red Army. A few years later, in 1948, I immigrated to Israel.
What is your message for youth today and future generations?
Life wasn't easy for Holocaust survivors to fit into the Israeli society, it took me a long time. I got married late in life and Ester and I had three children. We had a good life for nearly 50 years until she passed away. Today I am very connected with our children and grandchildren. I've been very blessed.
When I was sixteen I had nothing, and saw no possibility of overcoming my terrible hardships during the Holocaust. It was impossible to imagine that I would get out of it alive, but nevertheless I did what I could to overcome everything that was thrown my way. Please understand that any situation, however dire it seems, is never hopeless. You always have to think creatively, and find ways to overcome problems. This is the most important message of my whole story.
---