24 May 2020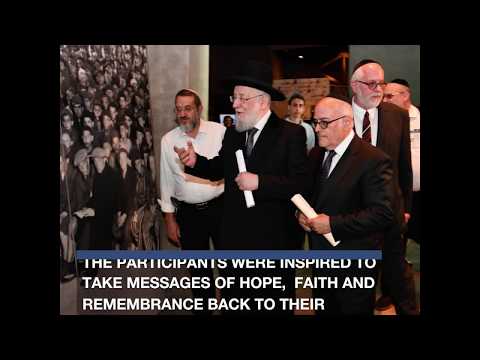 A striking black and white photograph of the 1945 Shavuot prayer service in the liberated Buchenwald camp in Germany hangs in Yad Vashem's Holocaust History Museum. One of the youngest survivors in the picture is Israel Meir "Lulek" Lau, who was just eight years old when Buchenwald was liberated by the Allied Forces.
Leading the service was a young Jewish chaplain, Rabbi Herschel Schacter, who was amongst the camp's liberators. Afterwards, Rabbi Schacter stayed in the camp to aid with the renewal of Jewish life and traditions, including celebrating the upcoming holiday that marks the giving of the Torah to Moses at Mount Sinai. Little did Rabbi Schacter know that the small boy sitting in the front row would grow up to be Chief Rabbi of Israel, a leading voice for Holocaust remembrance and education, and is today also Chairman of Yad Vashem Council.
Last summer, a moving reunion took place during the first Yad Vashem educational seminar held for communal rabbis and adult education teachers. The son of Rabbi Herschel Schacter (who passed away at the age of 95 in March 2013), Rabbi JJ Schacter, was invited to attend the seminar, where he was reunited with Rabbi Israel Meir Lau in front of the iconic image. It was an emotional and unforgettable encounter. 
"We will never allow the torch of our Jewish tradition to be extinguished," said Rabbi Lau to seminar participants. "We will light it over and over, and pass it from one generation to another, so that the chain remains unbroken."
---